At approximately 1430 hours on August 27,2003 theStraights dot com roving editor Wesley Fager staged a one-man demonstration against Scientology™'s east coast headquarters in occupied Clearwater, Florida. His hastily made banner reads L. Ron Hubbard is a Liar! from Virginia though unfortunately you can not read it in the photos as photo quality is very poor.
Photo 2 shows Wes at the side entrance to the courtyard at the former Fort Benjamin Harrison Hotel (now Flag Headquarters). If you look to right of Wesley you see the gates opening into the tree-filled courtyard. The protest started at the side entrance in Photo 1 with Wesley, poster still folded, talking to a space cadet, asking her if he was at the Coast Guard Academy or something because everyone was wearing naval uniforms. She told him he was at the Church of Scientology™ and if he had some time maybe she could arrange a tour. Wesley said no thanks as he had to catch a plane.
Wesley then walked to left of the building and turned right onto the main drag, positioning himself at the main entrance shown in Photo 3 where his banner was unfurled. The main entrance, as can be seen, was deserted. Everybody was at the side entrance. Several photos were taken on the main drag as shown in Photos 3, 4 and 5. Several cars passed and gave Wesley a thumbs up. Then he walked to the end of the building and turned back onto the side street, approached the side entrance and held his banner for those in the courtyard to see. The lambs in the beehive just stared at Wes and his sign sheepishly, but then in a flash, out of nowhere, a man appeared and got in Wesley's face screaming at him to get off their property. Wesley calmly stated that he was an American citizen exercising his Constitutional right to free speech. At that the bull baiter started walking down the street, pointing and ordered Wesley to follow him, to which Wesley responded, "I'm not following you anywhere." Next the pretorian guard screamed that he was calling the police. As Wesley was walking away to leave, a Clearwater police car passed right past him and his sign never even slowing down.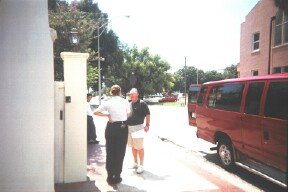 Photo 1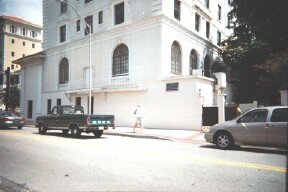 Photo 2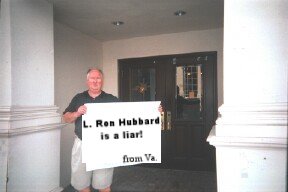 Photo 3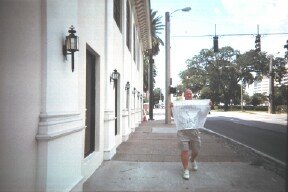 Photo 4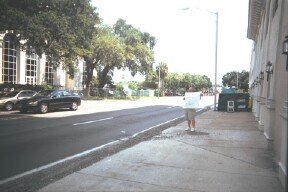 Photo 5