Continued from page 1. Now you might think the Straights just went away in 1993 because of overwhelming complaints of child abuse, but did they? Consider:
Straight-Orlando closed August 14, 1992. On that very day Michael Scaletta, its executive director, taking Loretta Parrish, the marketing director with him, opened SAFE, Inc. out of the same building. Meet Ms. Parrish who is now the executive director of SAFE in this video segment of a special investigative report on SAFE aired by WAMI TV of Miami, Florida in November 2000. (Go here for all four segments.)
In February 2000 Father Doctor Miller Newton, formerly Straight's national clinical director, closed his own Sembler-based synanon known as KIDS of North Jersey after 16 years. The closing came after he and his psychiatrists settled with a former client for $ 4.5 million for the abuses and medical mismanagement she says she sustained at KIDS.
Growing Together of Lake Worth, Florida is another Sembler-based synanon which has been accused of child abuse. Click on the link for an extract of a police report where a former male client says there was an attempt to gang rape him in a program extension foster home in 1997.
The number of teens that may have been in one of these programs may be as many as 50,000. Click on Flow Chart of the Straights to see where they all are or have been.
Straight continues to play a major role in shaping up American drug policy. Straight's former national research director Dr. Donald Ian Macdonald went on to become the nation's drug czar. Former drug czar Robert DuPont was a paid Straight consultant. Former drug czar Bob Martinez appears to be tied to Straight too. Today Straight Foundation, Inc. is called the Drug Free America Foundation, Inc. which suggested it made drug policy recommendations to president-elect George W. Bush who, as governor of Texas, has teamed up with DFAF on one drug awareness initiative. .
We keep talking about synanons. If you don't know what a synanon is, then click on the brief NBC News video segment on Synanon Church--the failed experiment that started a doctor-less, medical therapy.

The Leigh Bright Story. The Leigh Bright story has moved to here.

02-22-02 Where's the prosecutions? As we said, Straight is extraordinary for the large number of deaths which shadow it and for its endorsement by prominent Republicans. But there is something else for which Straight is extraordinary--through the years, despite countless state criminal investigations, there have been relatively few prosecutions or convictions. Let's look at that.

In exchange for immunity from prosecution Straight-Sarasota, Florida executive staff member Chris Cassler admitted to criminal activity at that Straight and said that he had been trained at Straight–St Petersburg. Straight–Sarasota closed under the flak and Chris Cassler became an executive staff member at Straight-St Petersburg! [St Petersburg Times, 9-19-83, p. 6B]
James T. Russell, former prosecutor for Pinellas County, Florida, saw things differently from Sarasota County prosecutors. In 1977 he did not prosecute for the alleged beating of Jerry Vancil at Straight-St Petersburg. How could he? The star witness just vanished. As far as I know, to this very day, Jerry Vancil has never been seen or heard from since----dead or alive. Russell did not prosecute when Florida's Bureau of Criminal Justice Planning and Assistance (BOCJPA) confirmed in 1978 several cases of abuse at Straight. He did not prosecute when two former Straight counselors signed sworn affidavits that Helen Peterman, then Straight's clinical director, had repeatedly slapped a small youth and yanked him by his hair in an apparent outburst of temper—even though that had not been the only public accusation of abuse by Ms. Petermann. [St. Petersburg Times, 2-12-78.]. Pinellas County States Attorney James T. Russell did not prosecute for the kidnapping by Straight of Gail Stephenson which had led to a Congressional inquiry since Ms. Stephenson was from Maryland. But then why should he? OK Roger L. Young was not on his beat. It was Circuit Court Judge Richard Miller who had committed Young to Straight's predecessor The Seed four days prior to his 21st birthday. Mr. Young did not even know there had been a hearing when the police arrested him and carted him off to The Seed. Judge Miller once bragged that he prefers juveniles to be absent from the courtroom while they are being committed to The Seed. But Jeff Bourgholtzer and the girl abducted from Saint Petersburg Catholic High School, they were on Mr. Russell's beat when they forcefully entered The Seed. But it's not really kidnapping. Hell, they had a parent in on it. James T. Russell had been instrumental in bringing The Seed to Pinellas County in the first place. Fact is, he was on The Seed's Advisory Board! Richard Mensh, at one time Russell's chief assistant prosecutor, is the brother of former Straight board member attorney Myron Mensh. And Allen Alweiss, one of Russell's assistant state attorneys, was on the Board of Directors for Straight, Inc.!
When Dr. Miller Newton, Straight's national clinical director, left Straight and Florida in the early 1980s, he left behind such a vast trail of civil suits and criminal allegations that there should have been a public outcry to fire James T. Russell for not doing his job. (Click here to see for yourself.) But why should he pursue Dr. Newton? After all, in 1993, Russell did not prosecute Mel Sembler when there was probable cause to believe that Mel Sembler had interfered with a state health department attempt to close Straight-St Petersburg for a reckless pattern over the years of violating state regulations. In a story that belongs on A&E's City Confidential, James T. Russell did not even try to prosecute when Mel Sembler, acting on inside information from a Clearwater city official, bought a swamp for $1 million and almost sold it a few days later to the city for use as a park for $3 million! Once that scam broke in the Saint Petersburg Times, the sale dragged on for months and the best Mel could get from his fellow citizens in Clearwater was a measly $1.95 million.

Newton may have operated with impunity in Pinellas County but New Jersey prosecutors were no more tolerant of child abuse than Sarasota County Florida prosecutors had been. Dr. Newton had setup a Straight-imitator program in New Jersey called KIDS. Twice prosecutors escorted students out of KIDS, and once an FBI agent wielding a subpoena took an adult client out of there. In 1993 three of Newton's KIDS' counselors were convicted of beating a client. Three years later there was another barrage of criminal complaints against Newton and his counselors, including a complaint against one of the counselors who had been convicted 3 years previous. And in 1996 Dr. Newton agreed to pay the federal government $45,000 in return for not prosecuting him for 254 counts of insurance fraud. [The Record (Hackensack), New Jersey, 9-24-96, p. A01.] In 1998 another counselor was convicted of assault. It all crashed in 2001 when Newton and staff settled with a client for $4.5 million.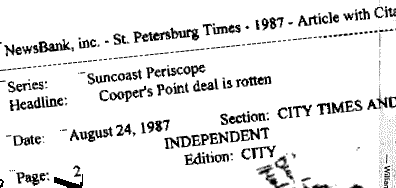 But Russell did prosecute Richard Bradbury, (the former Straight official who ultimately closed Straight) for breaking into Straight. Russell's prosecutors sought a one year jail sentence for Richard Bradbury because he "masterminded the scheme" to steal records from Straight to turn over to the state health department and because "he harassed [Straight] and its chairman of the board of directors, Mel Sembler." [Saint Petersburg Times, 9-25-1988, p. 3B] If you clicked above to read about the alleged abuses that occurred at Straight under Miller Newton, then you have to be asking yourself why would the Pinellas County prosecutor's office let Straight off the hook for abusing children time and time again, but go after anybody with the courage to try to tell the story? As William Shakespeare said it so many years ago, "There's something rotten in Pinellas County, Florida." James T. Russell should be held accountable for failing to stop the madness of Straight.

| | |
| --- | --- |
| | |
| We think the President should give Richard Bradbury a medal and the governor of Florida should make him Sheriff of Pinellas County for doing the States Attorney's job for him. | The photo is of Richard Bradbury from Creative Loafing, c. May 2, 1990. The partially cut-off sign reads Straight from Hell. It is from a period when Richard stood virtually alone against the police, HRS, the States Attorney, the judges and Honorable Mel Sembler, AO. |
| | |
In all fairness to Mr. Russell and team, there was one other prosecution. Straight-St Petersburg counselor Arthur Nicol (a former judge) got seven years in prison for sexually abusing a 15 year-old male client.
Straights in Virginia and Ohio were under criminal investigation when they closed. All of Miller Newton's expansion KIDS programs were under criminal investigation when they closed. When Newton's KIDS program closed in California, Straight moved into the same facility until it was run out of California by state authorities within the year for child abuse.
In 1985 Assistant Commonwealth Attorney for Lexington Kentucky, Jack Giles, told the jury he would seek jail time for Dr. George Ross, Straight's former national education director, who, like Newton, had set up several Straight-like programs after leaving Straight including Possibilities Unlimited in Lexington. Dr. Ross and several of his staff had been accused of unlawful imprisonment of several clients. But Ross' attorney was none other than Larry Roberts—the former Commonwealth Attorney for Fayette County (where Lexington is located). One of Ross' best character witnesses had been Helen Peterman coming up from Florida—she never having been prosecuted for child abuse by Larry Robert's counterpart in Florida—James T. Russell. A key witness decided not to testify. Ross was acquitted and charges were dropped against his co-defendants.
The States Attorney in West Palm Beach Florida prosecuted at least one of the old comers at a Ross follow-on program called Growing Together who had allegedly been part of an alleged three-some sexual assault of a newcomer. The complaint stated that one old comers held the boy while another ejaculated in his hair and another attempted to stick his penis into the boy's mouth.
Layne R. Meacham founder of Proctor Advocate which was based, in part, on Newton's KIDS' implementation of Straight, was convicted in Utah of a misdemeanor stemming from a charge of abusing a 16-year-old girl in his program. But a judge threw out that conviction, ruling the jury had made errors. [Deseret News August 3, 1999]
02-22-02 Straight officers and board members. Mel Sembler hired his good friend Walter Loebenberg (who is also the founder of the concept for the Tampa Bay Holocaust Museum) to be president of Straight. Mr. Loebenberg in turned hired Bernadine Braithwaite to be Straight's executive director. She had worked for him before at U.S. Health Corporation where he had been president. In 1992 the US attorney filed suit against Walter Loebenberg, Bernadine Braithwaite and a third person. I seems that Medicare was to have reimbursed USHC a portion of $300,000 required to pay medical malpractice insurance, but had made a mistake and paid $950,000. Click here to get the dope on Straight officers and board members.
02-22-02 Just how effective is it anyway? For all the human misery caused, for all the homes destroyed, just how effective is Straight's treatment anyway? A Deficiency Correction Order dated March 15, 1990 by Bette McClure of the Executive Office of Human Services, Office of Children, Commonwealth of Massachusetts to Debra Dragton, Administrator Straight-Boston had this to say, in part:
"Although Straight's statement of services states that Straight serves chemically dependent adolescents, a review of records and interviews with staff demonstrate that Straight admits children who are not chemically dependent. For example, one twelve-year-old girl was admitted to the program although the only information in the file regarding use of chemicals was her admission that she had sniffed a magic marker."
Straight was always making outlandish claims of success but where is the scientific data to support it? In September 1986 USA TODAY ran an article headlined: DRUGS: Teen abusers start by age 12 which opened with: "Almost half of the USA's teen drug abusers got involved before age 12..." The article was based on a study conducted by Straight, Inc. But Straight considers a little girl who sniffs a magic marker to be a drug addict. In 1989 the National Geographic of all magazines reported that cocaine use among kids admitted to Straight, Inc. since 1984 had increased from 25 to more than 75%. So what. The story of Straight's effectiveness is continued here.

02-15-02 "Mr. Chairman, members of the Committee, I believe that I have the qualifications necessary, if confirmed, to lead our diplomatic mission in Italy, to modernize it, and to strengthen it as an instrument to promote American interests in Italy. During my career in business, public service, politics, and diplomacy, I have worked hard and accomplished much. . . For the last quarter century, along with my wife, I have fought vigorously against the plague of drug abuse. In 1976 Betty and I helped found STRAIGHT, a non-profit, adolescent drug treatment and rehabilitation program with branches across the U.S., which successfully treated and graduated more than 12,000 young people nationwide. For 17 years, I served as chairman of the board of STRAIGHT. Other than our children, nothing was more rewarding than this effort. Betty and I initially agreed that if we helped one child it would be worth all the effort. With 12,000 successful graduates . . . It was a gratifying accomplishment."

Ambassador2 Melvin Floyd Sembler, AO addressing the Senate Foreign Relations Committee, Oct 31, 2001, on the occasion of his hearing as George W. Bush's nominee to be ambassador to Italy